Here are some of the best FPV drone ESC's on the market. There are more to consider when choosing ESC than just current rating, some ESC come with key features that improve performance you don't want to miss out on.
Further Reading:
| | |
| --- | --- |
| | I compiled the specification of all ESC's for mini quad in this spreadsheet so you can compare them more closely |
What key features to look for in FPV Drone ESC:
Runs either BLHeli_32 or BLHeli_S firmware
Decent noise filtration – before actually testing them, if you see lots of capacitors on the ESC, it's always a good sign
Bigger MOSFET's usually means the ESC can handle higher voltage and current, making the ESC more robust and capable to withstand abuses. MOSFET size is especially important for high voltage rigs such as 6S due to the higher voltage spikes
The performance difference between BLHeli_S and BLHeli_32 is minimal, so it really doesn't matter which one to get. Both firmware now support Bi-directional DShot Protocol, which means you can use RPM filter in Betaflight with both types of ESC. However BLHeli_S requires flashing 3rd party firmware to have those features (so slightly more work), while BLHeli_32 just works out of the box.
Also, BLHeli32 is the newer generation and offers advanced features that BLHeli_S doesn't, such as ESC telemetry, custom startup sound and RGB LED support. Get BLHeli_32 if you want your ESC to be more future proof, or get BLHeli_S if you want to save some money.
Regardless the amount of filtration on the ESC, you should always solder extra capacitors to the power of your ESC, this will reduce the chance of getting noisy FPV feed and improves flight performance. Take a look at this tutorial where I explain why and which capacitors you should use.
Sometimes it's easier to just buy a whole stack instead of picking the flight controllers and ESC separately. This is good because you usually don't have to worry about wire connection, they should be plug and play. FC and ESC from different manufacturers might have different pin out so you have to double check before connecting them to avoid frying your FC. Take a look at the flight controller stacks I recommend.
---
The Best 4in1 ESC
4-in-1 ESC's are getting more and more popular these days due to the compact form factor and ease to use by putting 4 individual ESC's on a single board. This results in less soldering and wiring due to fewer solder joints. 4in1 ESC normally sits under the flight controller, and connects with just one wire harness. However the downside is that if one of the ESC's breaks, you will have to replace the whole board which is more expensive.
If your 4in1 ESC and flight controller are from different brands, you must check pinout before connecting, or you can risk burning your FC or ESC. Make sure you check and swap the wires in the harness if necessary before connecting.
Holybro Tekko32 F4 Metal 65A 4in1 ESC – Top of the Line
Product Page:
Probably the most sturdy and lowest noise ESC on the market with that shocking amount of noise filtering onboard. It's amazing how clean the power is when using this ESC. The Tekko32 Metal is using the currently most power F4 processors in an ESC, it's rated for 65A, with 85A burst current. It's a great choice for both 4S and 6S, freestyle and racing builds. See this review for more detail.
Racerstar REV35 4in1 – Cheapest Worth Having
Product Page:
The Racerstar REV35 35A 4in1 is one of the cheapest 4in1 ESC on the list. Interestingly it looks identical to the Holybro TekkoS 4in1 we previously recommended, it's highly likely to be a rebranded product, and I loved the TekkoS 4in1 before they discontinued it. Note that it doesn't have any solder pads so you would have to use the connector.
XRotor Micro 60A – Tried and Tested
Product Page:
The Hobbywing XRotor Micro 60A is probably one of the most recognizable 4in1 ESC's in the industry because it's endorsed by many top pilots. It's a feature-rich ESC: DShot1200 support, beefy FET's, direct pins for low ESR capacitor, and you can either use the connector for a plug-n-play setup, or direct solder to the flight controller. If budget isn't an issue for you, this is a serious contender to consider.
Aikon AK32PRO 50A  – Powerful yet Compact 20x20mm
Product Page:
These have very compact form factor (20x20mm mounting holes). Don't be fooled by the small size, they actually have the same performance as some other 30x30mm boards, with 50A current rating per motor output, and supports up to 6S! It's small enough to fit in 3″ builds. If you ever need a 20x20mm 4in1 ESC for even a light weight 5″ build, this is a great option.
---
The Best Individual ESC
If you use individual ESC's, make sure to buy an "all-in-one" (AIO) style FC.
Spedix IS30 ESC – Cheapest Worth Having
Product Page:
These are some of the oldest ESC on the list, but they are cheap ($10 each) and get the job done. The Spedix IS30 ESC runs BLHeli_S firmware, support DShot600 and 4S, and they have decent performance (low noise). Great for a budget build.
Racerstar RS30A V2 – Cheapest Worth Having
Product Page:
The Racerstar RS30A V2 is another budget ESC's I'd recommend, and the quality is actually quite decent. It runs BLHeli_S, supports DShot and Multishot out of the box without any modification.
These are actually just rebranded Cicada 30A and there is a smaller 20A version if you are looking for slightly lighter ESC's.
The Racerstar RS30A V2 is capable of running DShot600 ESC protocol and supports 2S-4S input voltage.
Holybro Tekko32 35A (Top of the Line)
Product Page: (Discontinued)
Frankly most BLHeli_32 ESC perform kind of the same, what makes them stand out is their reliability. The Holybro Tekko32 35A has been very reliable during my time of testing them. Build quality is top notch, and the solder pads are well sized, you can even solder on both sides of the board, making it very easy to work with. As you can see there are many capacitors onboard for noise filtering, and they are indeed some of the best performers when it comes to noise.
The TekkoS32 35A weighs only 5g, supports 2S to 6S input voltage, and there are built-in RGB LED's.
I know Holybro has released a newer F3 version, but I just can't bring myself to recommend them over this one. The F3 35A version is much cheaper, but has little noise filtering onboard, while the F3 65A version is much beefier, however it's $7 more expensive (each), and frankly 65A is an overkill. The F3 processor is faster than the F0, but it brings little to none improvement in performance. With that said, if you are going for 6S, perhaps consider the F3 65A version if you have the budget :)
Aikon AK32 35A ESC (Tried and Tested)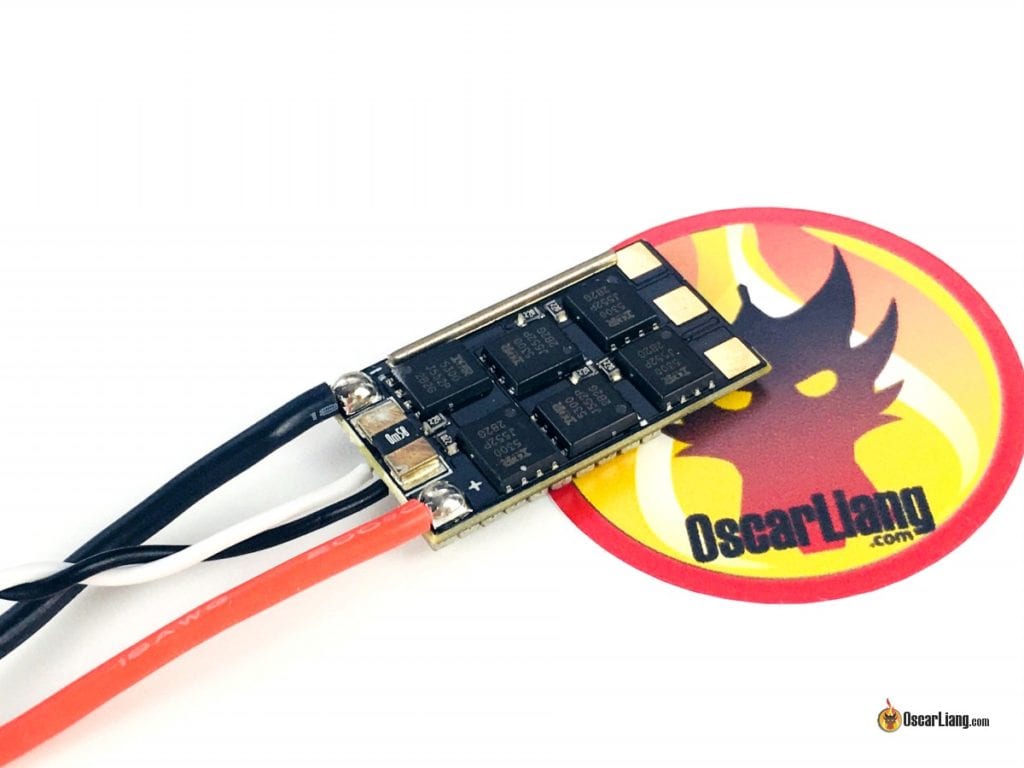 Purchase:
I used the AK32 35A ESC's on a build for months and didn't have any issues with them, great reliability and performance. These are simple and plain BLHeli_32 ESC's without any fancy RGB LED's. The Aikon AK32 35A ESC is rated for 2S to 6S voltage, and the burst current rating is up to 45A (10 seconds).
Conclusion
To be honest most latest ESC's these days perform similarly well, it's hard to go wrong with any of the choices mentioned.
Update History
March 2017 – article created
Oct 2017 – added Betaflight BLHeli_32 ESC, removed DYS XSD 30A v2
Mar 2018 – list updated
Aug 2018 – list updated
May 2020 – added new product
July 2020 – updated list
Jan 2022 – products links updated